Burbank's Colby Jensen, signs contracts after Showcase at 3-2-1- Acting School in Los Angeles
Meet 3-2-1- Acting Studios student Colby Jensen from Burbank, CA.  Colby recently completed his Acting Career/Showcase Program at 3-2-1- Acting Studios in Los Angeles to prepare for a professional acting career.  He performed solo in front of top Hollywood talent agents and managers, and after Showcase he signed with one of each the very same day!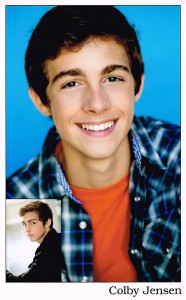 We caught up with Colby and his brother Tyler in the car bound for yet another audition since Showcase day.  Colby, how are things going? 
Colby:  Great!  We're getting a whole bunch of  stuff done. It's a lot of fun.
What's it like having both a talent agent and a manager?
Colby: Great.  And he's been just great, Doyle, my manager. He practiced with me on my Paramount audition.  That was for "See Dad Run."  It's a TV show on Nickelodeon.
You've practiced slating and preparing with scripts in class.  How long do you have the script to prepare for these auditions? 
Colby: You get the sides (part of the script) the night before the audition, and you practice them.  And then you go out and you do it.
That sounds a lot like class.
Colby:  Yeah, basically.  And my last audition for a commercial, I got my lines there.  Just like they taught us at 3-2-1-.  I got a partner, and me and her practiced, and we went in and did it.
What's it like auditioning with a scene partner you've never met or worked with before?
Colby:  It's great. I'm really good at it. So that helped a lot. This girl, she wasn't the best actor, I had to help her out a bit, but it was good.
What did you do to help her?
She was like kind of…she didn't have a very good…  She came in very shy.  She was kind of bored.  So what I did was…I pulled out her happiness.
How did you do that?
Colby:  I kind of made her more comfortable.  We practiced our lines, and I said we should get to know each other so we're more comfortable in this space, and then we were more comfortable.  I joked around with her and it made her happier, and that helped.
That's a tremendous skill to have, and it sounds like it probably helped your audition, too, to work with a more engaged scene-partner.  Did you think it helped your performance, too?
Colby:  Yeah, definitely.
How has what you learned in your acting classes at 3-2-1- helped you in these auditions since you Showcased?
Colby:  TV1, definitely.  Like for the commercial? Getting lines like in class—you get them, you go out and work on them, and then you do it.  Learning lines fast.  It's a lot like how it really is.
That's terrific to hear.  In all our acting classes for kids, teens and young adults at 3-2-1- Acting School, we want our students to really feel prepared.  That's why we use real commercial, film and television scripts and get our students used to performing on camera each and every class.
Colby:  Yeah, I learned to always expect a camera to be there, like in the audition, and that helps, just in case, and I learned that at 3-2-1-.  And confidence.  Working with different people.
You'll be doing a lot of that now!
Colby:  Yeah, we're getting a lot of auditions.  We're heading to one right now, an audition for Tyler.
That's right, your younger brother Tyler also Showcased and was signed.  Two actors in one family!  Do you two ever feel like you're in competition?
Colby:  No, we're really interested in helping each other out.  I'm running lines with him now.
You make a good team.  And that kind of support is so important.  Speaking of which, do you have any advice for your peers at 3-2-1- or other young actors?
Colby:  Just to always stay positive, and always to have fun with it.
Colby, thanks for taking the time! 
Take a look below to see some of what Colby prepared for Showcase that got him signed and launched his professional acting career:
Colby Jensen is represented by Robin Nassif at Media Artists Group Talent Agency and IMPACT Artists Group management company.  We look forward to hearing more about Colby's acting successes and sharing them here!